Spring Recital Photos from Veria Video & Photography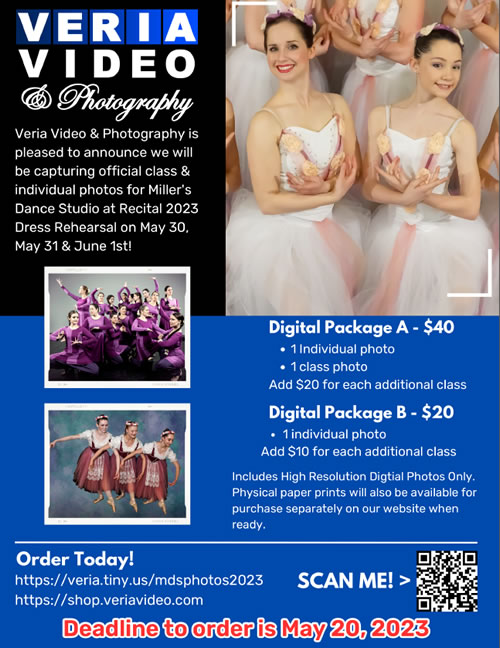 Veria Video & Photography will be capturing official class and individual photos for our 2023 Spring Rectal during Dress Rehearsal on May 30, May 31 & June 1st.
Order today!
veria.tiny.us/mdsphotos2023
shop.veriavideo.com
**Deadline to order is May 20, 2023
Veria Video & Photography PDF Flyer with details

Please note that due to time constraints during the dress rehearsals, we will only be able to do photos for the following:
Photography Information
Tiana's Place ( Shows 1,3,5)
The Princess and the Frog (Shows 2 and 4)
Dream It, Wish it, Do it (Shows 2 and 4)
We will only be taking pictures for students in their Ballet, Tiny Jazz and Hip Hop costumes
We will take group and solo pictures of all these classes
We will only take pictures for class dances in their Ballet costume
Special Parts will have groups and solo pictures for those in groups of 4 or more
All Special parts will have an opportunity for a solo photo
We will not have time to do any group photos
For students only in this section, we will make sure they have an opportunity for solo photos
We will try to allow for as many individual photos as possible, but there are so many students in multiple dances and with many quick changes, that it will be hard to schedule. PLEASE be sure to order in advance so that we can schedule your child in the costume you would like.