Spring Recital Show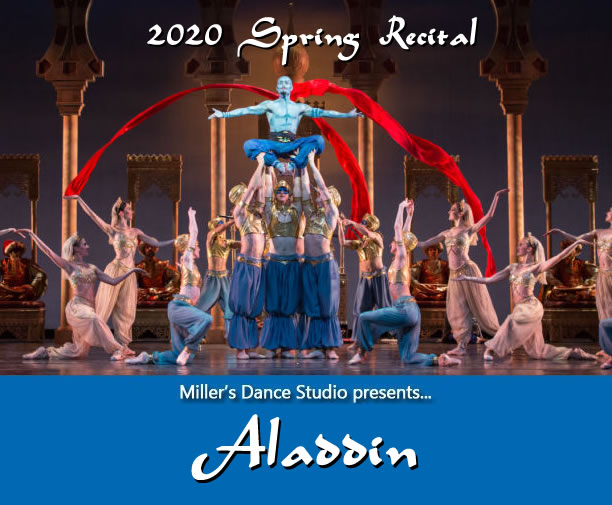 A Whole New World
The first section of our recital this year will be "A Whole New World." This will be a short show featuring our little ones. At the end of this show, these classes will be released and the auditorium will be cleared. We hope the students will purchase tickets for the second show, which will be the complete story of "Aladdin". We feel that it is very important for the younger dancers to see the older students perform.
---
Aladdin
This show features our advanced dancers in their special character story roles. We are doing a medley and story of "Aladdin". This will include all classes ICD and above. If your child is only in the last section, " It's A Wonderful World", and you do not wish to see the entire show, please see the breakdown times.
---
It's A Wonderful World
"It's A Wonderful World" begins right after intermission. This part of the show contains the Father/Daughter Dance, Hip Hops, Lyricals, Poms, Irish and a variety of other numbers not in "Aladdin".
---
Last Week of Class
Hampden & Saddle Rock -Thursday May 21st, 2020
---
Parent Meetings
Parent meetings are held during the week of May 16th through May 22nd. The meetings will be during the beginning of your child's class. We will discuss all recital information. If your child is in separate ballet, tap, & jazz classes, come to the first part of the ballet class in which your child is learning their ballet dance for info on all costumes. It is very important that you attend or have another parent in the class take notes if you are not able to attend. All questions regarding the rehearsal, show times, dates, costumes, and class pictures will be covered.
---
Recital Picture Schedule
Recital pictures will be taken at the studio location your child's classes are held. Prices will vary from $20.00 to $40.00 depending on what package you choose. There are many options to select from. Please be here, dressed in costume, 10 minutes early. Please have your child attend, even if you do not wish to purchase pictures. Make checks for the exact amount, payable to Fall Child Photography and bring your order form and payment when pictures are taken. Rental items will be at the studio for your pictures. Time involved will be approximately 30 minutes. Specifics for each dance will be discussed at the parent meeting.
Hampden Location-Tuesday, May 26, 2020 Saddle Rock location-Wednesday & Thursday May 27 & 28, 2020
The Main Character Pictures for Shows 1&2 will be held at Hampden, Shows 3&4 at Hampden.
A note from Fall Child Photography:
Dear Miller's Family,
We are so excited to be providing recital photography this season! To make the process easier
and less confusing, here is some general information about our system in case you did not work
with us during The Nutcracker this year.
*We strive to make memories affordable for all families. Due to this, printed packages cannot
be changed or customized. There are several print options you can add onto any package for
additional sizes/options.
*In order to make digital files more affordable, we will utilize email and digital downloads for
your files instead of providing thumb drives. If you need a hard copy, please inquire.
*As many of you are aware, we have an overwhelming amount of students to photograph in a
short amount of time. Because of our schedule, we will only be accepting cash or check the day
of. Online ordering will be available after all picture day orders are filled and will include the
option to buy with credit card- please note online ordering prices are not the same.
*Please note that most students will only have time for one pose and a group photograph.
*While we strive to provide the most modern portraiture available, due to costume colors we
are unable to offer multiple background colors. We will continue to shoot all portraits on gray
to avoid any costumes not showing up on the backdrop. Post processing will be available for
online orders which includes the option to upgrade and opt in for changing background colors
and other editing requests (removing acne, etc.) See attached photo for reference.
*You may print your own order form or grab one from the front office, order forms will also be
available the day of but we can only accept exact change or checks.
*If you have any questions/concerns, please contact us directly at the email/phone listed on the sheet. Miller's
staff will direct you back to us for any questions.
Thank you! -Dominique Gildea Owner, Fall Child Photography
---
Recital Location
All dress rehearsals and shows will be held at:
HINKLEY HIGH SCHOOL
1250 Chambers Rd
Aurora, CO. 80011
Map
---
Spring Recital Show Times
Show 1 - Friday, June 5th, 2020
A Whole New World
5:00 pm
Call 4:30 pm
Aladdin
6:45 pm
Call 6:15 pm
It's A Wonderful World
8:30 pm
Call 8:15 pm
Show 2 - Saturday, June 6th, 2020
A Whole New World
10:00 am
Call 9:30 am
Aladdin
11:45 am
Call 11:15 am
It's A Wonderful World
1:30 pm
Call 1:15 pm
Show 3 - Saturday, June 6th, 2020
A Whole New World
4:30 pm
Call 4:00 pm
Aladdin
6:15 pm
Call 5:45 pm
It's A Wonderful World
8:00 pm
Call 7:45 pm
Show 4 - Sunday, June 7th, 2020
A Whole New World
4:15 pm
Call 3:45 pm
Aladdin
6:00 pm
Call 5:30 pm
It's A Wonderful World
7:45 pm
Call 7:45 pm
Show 5 - Sunday, June 7th, 2020
A Whole New World
2:00 pm
Call 1:30 pm
Call
Call
Dress Rehearsal Times
Show 1 - Monday, June 1st
A Whole New World
5:15 pm
Aladdin
6:15 pm
It's A Wonderful World
8:15 pm
Show 2 - Tuesday, June 2nd
A Whole New World
5:15 pm
Aladdin
6:15 pm
It's A Wonderful World
8:15 pm
Show 3 - Wednesday, June 3rd
A Whole New World
5:15 pm
Aladdin
6:15 pm
It's A Wonderful World
8:15 pm
Show 4 - Thursday, June 4th
A Whole New World
5:15 pm
Aladdin
6:15 pm
It's A Wonderful World
8:15 pm
Show 5 - Sunday, May 31, 2020
A Whole New World
3:30 pm
Back to Top