Spring Recital Show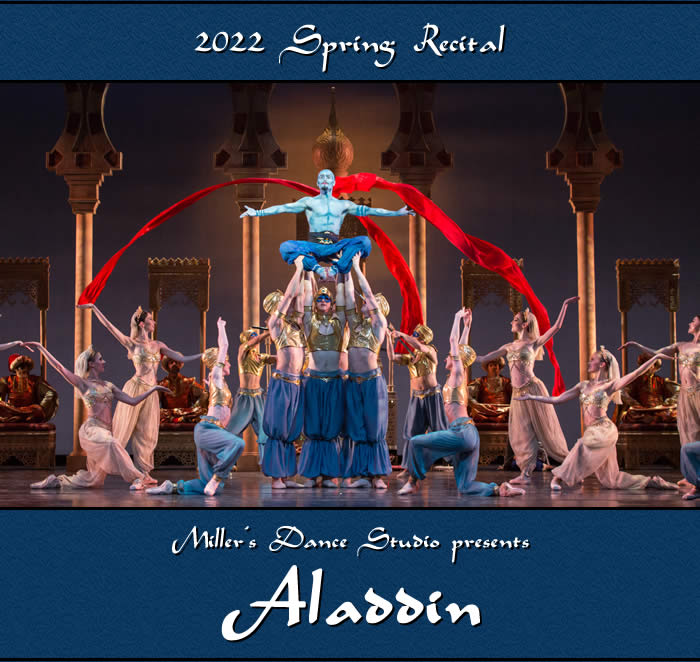 A Whole New World
The first section of our recital this year will be "A Whole New World." This will be a short show featuring our younger dancers. At the end of this show, these classes will be released and the auditorium will be cleared. We hope the students will purchase tickets for the second show, which will be the complete story of "Aladdin". We feel that it is very important for the younger dancers to see the older students perform.
---
Aladdin
This show features our advanced dancers in their special character story roles. We are doing a medley and story of "Aladdin". This will include all classes ACD and above. If your child is only in the last section, " It's A Wonderful World", and you do not wish to see the entire show, please see the breakdown times.
---
It's A Wonderful World
"It's A Wonderful World" begins right after intermission. This part of the show contains the Father/Daughter Dance, Hip Hops, Lyricals, Poms, and a variety of other numbers not in "Aladdin".
---
Last Day of Class
Last day of class: May 26, 2022.
---
Recital Location
All dress rehearsals and shows will be held at:
VISTA PEAK PREPARATORY SCHOOL
24500 E 6th Ave
Aurora, CO.80018
Map
---
Dress Rehearsal Times
Tuesday , May 31, 2022
Show 1 - A Whole New World
5:00 pm
Show 2 - Aladdin
6:15 pm
Show 2 - It's a Wonderful World
8:15 pm
Wednesday, June 1, 2022
Show 3 - A Whole New World
5:00 pm
Show 4 - Aladdin
6:15 pm
Show 4 - It's a Wonderful World
8:15 pm
Thursday, June 2, 2022
Show 5 - A Whole New World
5:00 pm
MDF rehearsal for selected dances
6:15 pm
Spring Recital Show Times
Friday, June 3, 2022
Show 1 - A Whole New World
5:00 pm
Call 4:30 pm
Show 2 - Aladdin
6:45 pm
Call 6:15 pm
Show 2 - It's a Wonderful World
8:30 pm
Call 8:15 pm
Saturday, June 4, 2022
Show 3 - A Whole New World
10:00 am
Call 9:30 am
Show 4 - Aladdin
11:45 am
Call 11:15 am
Show 4 - It's a Wonderful World
1:30 pm
Call 1:15 pm
Saturday, June 4, 2022
Show 5 - A Whole New World
4:00 pm
Call 3:30 pm
Back to Top