Fall Ballet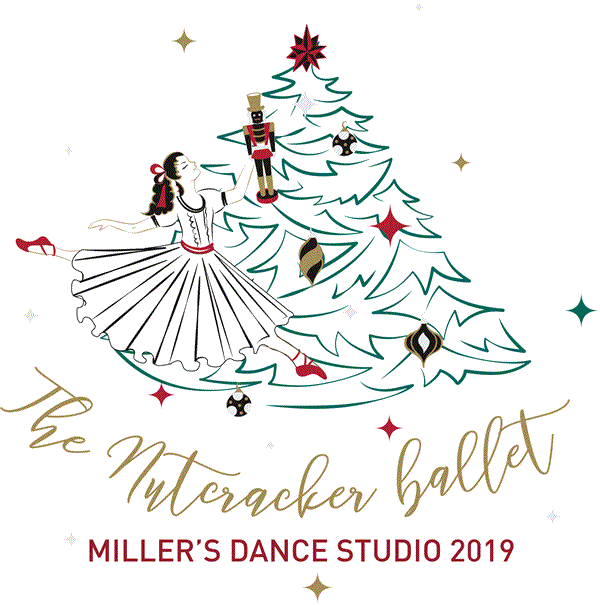 2019 Fall Ballet "The Nutcracker Ballet"
Miller's Dance Studio is excited to announce that our annual Fall Ballet production will be the "The Nutcracker Ballet" to be presented this December. Kindy through Senior/Advanced may participate. Tickets go on sale Friday, November 16 at 6:00 pm.. All students from all locations are welcome and encouraged to attend. Rehearsals for Apprentice through Sr/Adv will be held at the Hampden studio. All of the younger students in the Kindy, BCD, ICD, & ACD classes will rehearse at the studio that they take their lessons and do not need to audition. We are excited for this timeless classical ballet.
---
Nutcracker Auditions
Auditions will be held on Saturday, September 7th at the Hampden studio
1:00-2:00 => Senior Elite, Advanced (if you were in it last year)
2:00-3:00 => New Advanced, Intermediate, Elite, Junior Elite, MDF Tween, Protege (On Pointe)
3:00-4:00 => Premier, MDF Tween, Intermediate,MDF Protégé (Non-Pointe)
4:00-5:00 => Apprentice, Novice, MDF Preteens, MDF Junior
Audition Fees
$80.00 Elite and Advanced
$65.00 All other dancers
$20.00 If cast in multiple rolls
This includes all rehearsals and rental costume rentals.
Ladies should wear a black leotard and pink tights. Gentlemen should wear a plain white t-shirt and black shorts or workout pants. All hair should be pulled off of the face.
Please call 303-690-6040 for more information on fees, rehearsal dates and any questions you may have.
Nutcracker 2019 Audition form Younger Dancers
Nutcracker 2019 Audition Form Older Dancers
---
Show Date & Location
Performances
Saturday, December 7th, 7:00 pm (call time 6:00pm)
Sunday, December 8th, 3:00 pm (call time 2:00pm)
*Dress Rehearsals
Friday, December 6th 5:00 pm (show 1)
Saturday, December 7th 9:00 am (show 2)
Location
Hinkley High School
1250 Chambers Rd
Aurora 80011
Map
---
About our Fall Ballet Program
Miller's Dance Studio produces a full length fall ballet yearly. Auditions are held each September for all students in separate ballet classes that dance year-round. Each level has a specific number of required classes or can take ballet camps in the summer for these requirements. The Kindy, BCD,ICD and ACD combo classes are also invited to participate with NO AUDITION involved. We strongly believe that our studio is set apart from others by offering this opportunity in our curriculum.
---