Fall Ballet
Fall Ballet Dress Rehearsals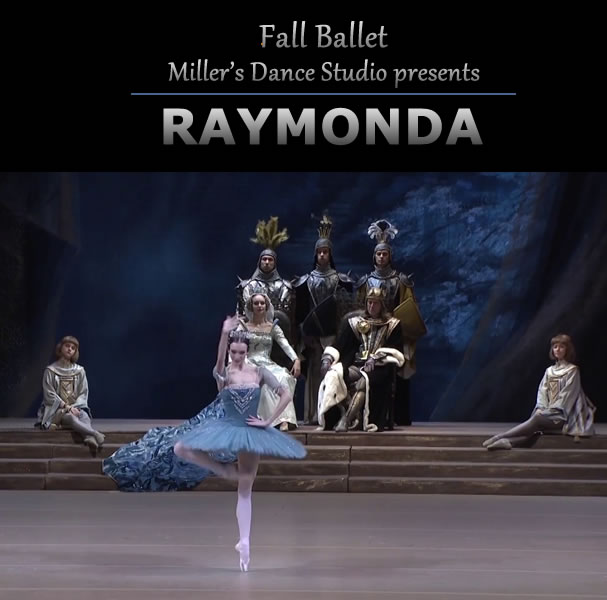 2020 Fall Ballet "Raymonda"
We are so excited to announce that Millers will be doing "Raymonda" for our fall ballet this year. We understand that things are very uncertain right now and that is why we have made the decision to do this ballet that will provide many opportunities for classical ballet performance in a non-threatening venue. "Raymonda" has many classical variations, duos and trios. All large group dances will be cut down to small groups and there will be no partnering. This gives the students a chance to grow as ballet technicians and artists in a safe environment.
We will do most of the rehearsals on zoom and a few in the studio when we get closer to the show date. Then, we will give you a schedule of the performance times, so the dancers can come to the studio in shifts to record their part. After this is completed, we will edit the videos into a beautiful ballet that will premier virtually on the Miller's website. Each student will previously be given their costume, so they can come at their designated time, have their picture taken, film their part and leave immediately after. This way, we can monitor how many students are in the studio at a time for the filming and disinfect accordingly. On the participation form, please let us know if you would prefer to rent a costume or purchase a costume for the performance. Either way, you will be the only person wearing that costume. We will decide after auditions if we will have 1 or 2 shows based on the number of dancers that want to be involved.
The ballet intensives this summer will also be done on zoom, unless the restrictions change later on. Dancers who are interested in a featured part will learn the audition variations at the ballet intensives this summer. Then they will have the choice of recording themselves doing the variation they learned and sending it to us, or doing the variation in a zoom audition setting. If dancers are not interested in a featured, pointe part they will not need to audition and we will place them according to level. We feel that these ballets are a huge part of the dancers' training and life experience and we are trying to do it in the safest way possible. We would love to address your questions or concerns if you have them. Let's keep the communication open as we are willing to work with what you feel comfortable.
* Please note that rehearsals will be held every Saturday starting on Sept. 12 until the filming. Depending on the number of students involved we will either film the weekend of Dec. 5-6 and possibly also Dec. 12-13. Each student would only be needed one of those weekends to film.
---