THE HISTORY OF POINTE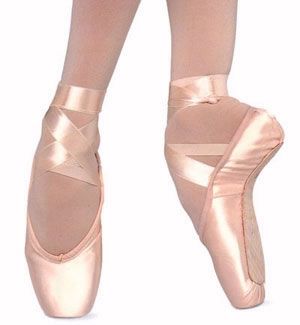 "Today's pointe shoe with all the layers of glue hardened material is a definite improvement from the original design but without a dancers hard work it is nothing more than an uncomfortable shoe."
Dancers first started dancing on pointe so that they could appear weightless as if they were floating across the stage. Ballerinas often dance the roles of magical nymphs and fairies, graceful swans or romantic princesses and dancing on pointe adds to the illusion of these characters. The long lines they strive to create with their body are stretched even further as they rise up on their toes in pointe shoes. Charles Didelot called the first pair of pointe shoes he invented in 1795 "flying machines" because he hoped the audience would feel as if the dancers where gliding in the air when they watched them dance in his shoes.
Marie Taglioni is often thought to be one of the first ballerinas to perfect the art of dancing on pointe. Her shoes were nowhere near as strong as today's pointe shoes. She had to rely solely on the strength of her feet and ankles. The steps she performed on the tips of her toes where few and brief. As dancers strived to do more and more on pointe, the shoe evolved into something much stronger and more supportive. Anna Pavlova, a famous Russian ballerina, took it upon herself to create a better pointe shoe. She made the shank harder and flattened the box to help her balance longer and do more advanced steps on pointe. Her peers accused her of cheating but the audience loved her and her shoe became the basis for today's pointe shoes.
Regardless of how strong the pointe shoe has become it still requires a tremendous amount of strength and control from the dancer. The goal of gracefully floating across the stage on pointe takes years of training, for there is much effort involved in making it look effortless. Today's pointe shoe with all the layers of glue hardened material is a definite improvement from the original design but without a dancers hard work it is nothing more than an uncomfortable shoe. It takes the shoe and the dancer working together to create the beautiful image that ballerinas and shoemakers have been striving for all these hundreds of years.
This article was written by Lesley Henry, our ballet mistress. Next month there will be a continued article on requirements and information on when a child is ready for pointe. Look for it in November.