Nutcracker Tickets on Sale
Ticket Price: $15.00
ALL TICKETS WILL BE SOLD ONLINE. NO tickets will be available at any of our studio locations.
Check out the Ticket FAQ page for assistance with your purchase.
It's Bring a Friend to Class Week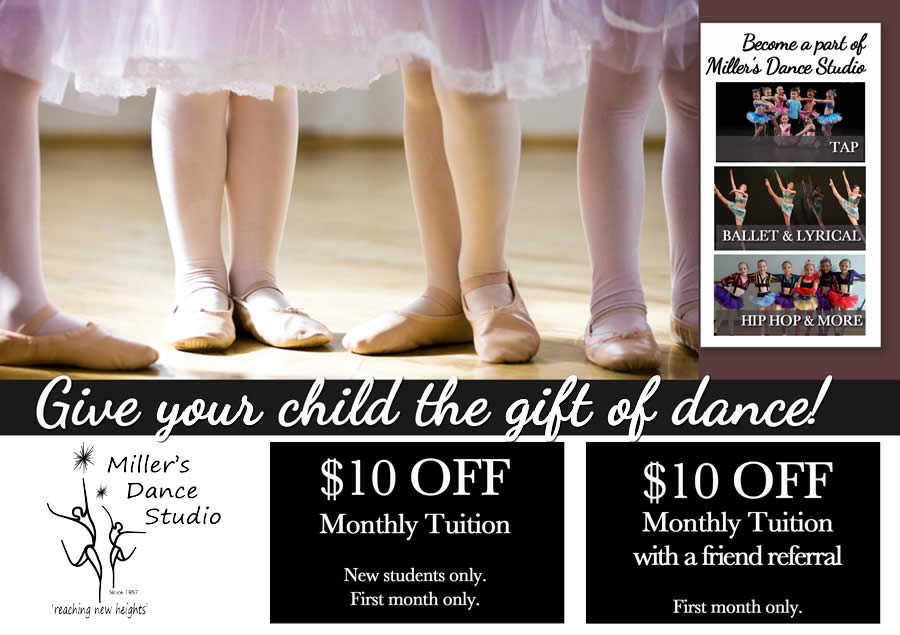 We all love to dance and this is your chance to bring a friend to dance. Lets show them how much fun dance classes are!
Invite your friend to participate in your dance classes for free (tumbling classes excluded) during the week of December 8th - 20th
Bring a can of food for our holiday food drive and have your friend bring a can.
This way we help our neighbors in need and have fun doing it. Here at Miller's Dance Studio we are family and we would like to add your friends to our family.
So bring your friends and lets dance!
2014-2015 Fall Dance Session
Classes start Tuesday, September 2.
Hampden Fall Schedule
Parker Fall Schedule
Saddle Rock Fall Schedule
You can fill in the registration form online, print it and send it in with first month tuition and registration fee.
Be sure to look over the 2014-2015 Fall Schedule Information Packet for important dates and additional information.
About Miller's Dance Studio
Miller's Dance Studio Serving Aurora & Parker, Colorado for over 55 Years
Miller's Dance Studio has provided Colorado with dance instruction in all styles of dancing for over 55 years. We have 3 locations in Colorado, two in Aurora and one in Parker. Our newest location is in the Saddle Rock area in Aurora at Smoky Hill and E470. Besides offering the common styles of dance such as hip hop and ballet, we also offer Irish Step Dance and Ballroom. We have a wide variety of classes available for all ages starting from 18 months to our adult dance classes. We offer an all-boy's dance class as well. If you live in or around Aurora or Parker, please give us a call to find out more about our dance program and dance instruction.
Miller's Dance Studio has a well known competitive dance company that we call "Miller's Dance Force." This dance competition group continues to be a "force" in regional and national dance competitions, consistently winning top awards. Many past Miller's Dance Force members are currently working professionally in the dance world including the Australian tap group known as "Tap Dogs", music tours Cher's "Dress to Kill", Michael Jackson's "This is It" and movie's such as "High School Musical II, Stepbrothers, 17 Again, Fame, The Campaign, Rock of Ages, Burlesque, No Strings Attached, & Platinum". Currently an alumnus is working on the Adrenaline Convention and previously with LA Dance Magic, Jump and Tap the Map Conventions.
Miller's Dance Studio is dedicated to the development of strong bodies and sound minds while instilling an appreciation for the art of dance in each of our dancers. We offer Pilates classes with reformers to keep the body in tune with the demands that dance requires. If you truly want to be a part of a well established dance studio for over 55 years and have fun while you learn to dance, give Miller's Dance Studio a try and you won't be disappointed.